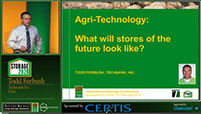 Todd Forbush speaks at Storage 2020 in the UK.
Todd about storage now and in the future at the Storage 2020 meeting held in England. This is an interesting discussion of where we are and what opportunities exist in potato storage.
Click on image for video.
Techmark launches new website!
Todd Forbush speaks at the World Potato Congress. Yanqing, Beijing , China 28-30 July, 2015. For WPC website.

The NEWSBEET. Michigan Sugar Company. Fall 2008.